How it works

Complete our
60 second form.

Compare quotes and
discuss your options.

Purchase only
if you're happy.
Not just another comparison website

We believe in more
than just transactions.
We'll connect you with a friendly consultant who can compare your options.

This is all about you
and your experience.
As your time is precious we believe things should be simple, quick and easy.

A different way.
A better way.
Unlike other comparison sites, we're about using a personal human touch, within the buying process.
If you want peace of mind about medical treatments, with access to high-quality private medical facilities,
then it makes sense to cover yourself and your family.
What is health insurance?
Health insurance is a form of private insurance that pays for medical treatment if you get ill or suffer an injury.
Although most UK residents are entitled to free healthcare on the NHS, there are often long waiting lists for treatments. Having health insurance means you can be diagnosed faster and start treatment sooner than may be possible through the NHS.
By joining a health insurance scheme, you make a monthly payment to the insurance company, and the insurer pays for your medical treatments when you require them.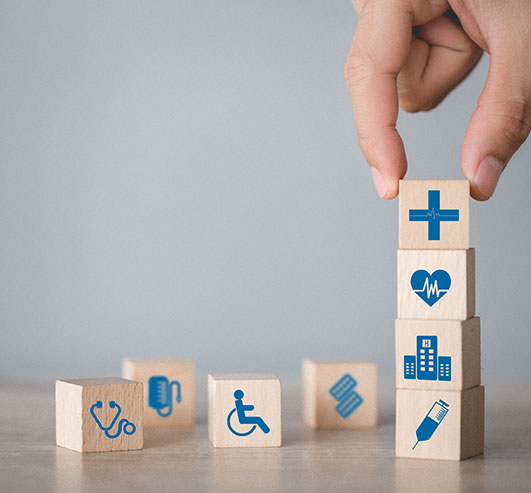 Why do I need health insurance?
Over 4 million people are waiting for treatments on the NHS*
Previously NHS targets for treating cancer patients within 62 days of GP referral were not met for over 5 years**
Delays in medical treatments may be linked to disease progression
Can you rely on the NHS to deliver high-quality medical care when you need it most? If not, then having private health insurance gives you and your family peace of mind should you get ill.
In addition to faster access to treatments, some specialist drugs may not be available on the NHS because they are deemed too expensive, but they can possibly be accessed via your health insurance cover.
What types of health insurance are available?
There are a variety of health insurance policies that you can choose according to your needs.
Firstly you must decide whether you want to have health insurance as an individual, on a joint policy with your partner, or require health insurance for your immediate family.
Individual health insurance covers your medical requirements
Joint health insurance covers you and your partner
Family health insurance will cover you, your partner and your children
On offer, there is a range of cover and premiums to best suit everyone's specific needs.
As everyone is different. There is also a range of cover options letting you tailor your private health insurance so it's right for you. When you get a quote you can add and remove these options and see how it impacts the price.
How much will I pay?
Prices for individual health insurance policies start from around £28 per month∫
The cost of your health insurance will depend on a variety of factors such as your age, your postcode, and your lifestyle. Not smoking may aid fitness levels and possibly help to reduce the cost of a premium. Your medical history will also be taken into account.
Aside from these factors, the main price influencers are the type and level of insurance cover you select. An estimate being - an individual choosing a basic policy will pay less per month than for comprehensive family cover, but the medical provision will also be lower.
Which treatments are not covered by health insurance?
Different policies will have different inclusions and exclusions . However, there are several illnesses and treatments that will commonly be excluded from most health insurance schemes.
These may include:
Pre-existing medical conditions
Cosmetic surgery
Fertility treatment
Drug rehabilitation
Emergency medical treatment
Chronic illnesses such as HIV, diabetes, or incurable diseases
Always take a little time to understand what is and isn't included in your health insurance policy. Many people often find it's worth paying extra per month for a higher level of illness cover.
How do we help?..
Our service helps you to compare health insurance quotes through an authorised FCA regulated broker or insurer. There's no obligation to purchase, it's always entirely your choice.

Please note all third-party insurer logos on this site are a trademark of their respective owners. Some of the brokers we work with may not be able to provide quotes from all of the insurers featured.
*bbc.com/news/health-56752599
**health.org.uk/publications/long-reads/nhs-performance-and-waiting-times
∫ This is based off a non-smoking 25-year-old, with mid-level cover paying a £200 excess living outside of London with £500 outpatient cover